I think it is very simple and pretty. The swallow has a ruby in his mouth, which is a reference to my favorite short story by Oscar Wilde, "The Happy Prince". If you haven't ever read this story, I recommend that you go here to read it online when you get a chance. It is a sweet (and a little bit sad) story of a swallow who takes the gemstones out of a town's statue and gives them to poor people.
I have been pretty much neglecting my "Fancylinda" shop for awhile, but I have some plans to update it. In celebration of its new look, I have listed a new necklace that I made recently, which is the first of many jewelry items that will be coming soon.
This particular necklace is quite fancy, but what I want to do mostly is make a lot of simpler pieces that use the supplies I sell in my "Teapots & Telephones" supply shop. That way I can put links from the supplies to the finished pieces to give people ideas of how to use them, and links from the finished pieces to the supplies in case someone would like to make their own variation. I believe that's called being "vertically aligned" in business terms. I will still have some more special one-of-a-kind jewelry pieces from time to time though.
The craft and ephemera kits are being moved to "Teapots & Telephones", where they will make more sense in that they are technically supplies. However, I have put my Victorian Mourning craft kits on CLEARANCE in "Fancylinda" for now, since they've been there for so long.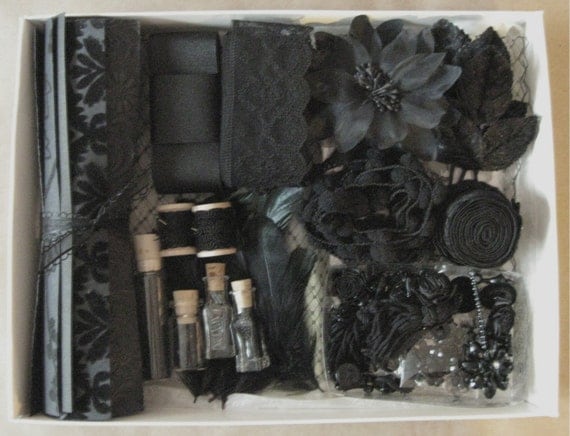 I am hoping they will finally sell out at 50% off and I won't have to move them anywhere. Halloween will be here soon, and those kits are perfect for Halloween crafting if you are so inclined...